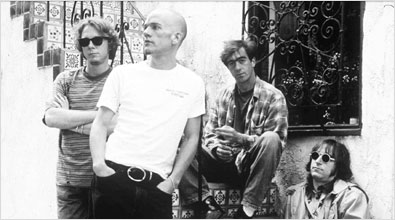 Hello my NEXTers. You commented (via Twitter and Facebook) and I counted. These are our favorite R.E.M. Songs.
Our first song is early REM. Off "Murmur" (1983). At their jangly best. I can understand Mr Stipe though. Good start.

We slow things down a bit and jump to 1988. A love song from R.E.M.? Nope not yet. Well it's a love song of sorts. A love song to friends/family/humanity(?). It's the heart and soul of "Green".

A song about skinny dipping? Sure. It was our 4th favorite song. Off "Automatic for the People" (1992). Sadly the restaurant where they got that title closed down. Plus the song includes a string arrangement by John Paul Jones. This was demo'ed for "Out of Time" but didn't make that album. Good choice. Don't think this song would have fit on that album.

OK here's the love song. Nope. Actually it's the opposite (wrote about this for V Day one year – remember?). It's also Stipe at his most vicious and cruel. Off "Document" (1987).

Ready for our second favorite? I first heard this on "The Best of" but it's off their early ep "Chronic Town" (1982). I. Have. No. Idea. What this song is about. Anyone? A robbery? Some sort of crime? "gentlemen don't get caught". It's such an R.E.M. song. Could the most R.E.M. song. If you know what I mean.

Number one. Also their first single (1981).

Thanks again NEXTers.
All this talk of R.E.M. songs got me wondering what, according to my computer, have I listened to the most?
11. Belong
10. Begin the Begin
09. Carnival of Sorts (Boxcar)
08. World Leader Pretend
07. So Fast, So Numb (this one surprised me the most…well almost)
06. Gardening at Night
05. The One I Love
04. Untitled
03. It's the End of the World as We Know It (and I Feel Fine)
02. Catapult
01. Strange (a Wire Cover…this surprised me the most…but true be told the most surprising thing was I had 28 R.E.M. albums on the computer)

PS: I have two Stipe stories. My favorite is as I was coming out of a NYC restaurant and seeing that someone was coming in at the same time. I held the door for them. In walks Stipe (with a group). My sister mouths "WAS that Michael STIPE?!?". Yes. Yes it was.