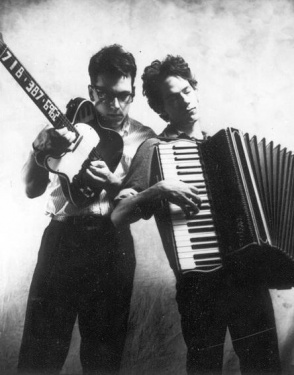 Written by Next Listener Sully
It is hard to believe it has been over twenty years since I first experienced They Might Be Giants (TMBG) in concert, a journey that began with a casual invitation from an old friend. Back in 1990, TMBG was promoting their first release with a major label, Flood. Building on the success of the single "Birdhouse in Your Soul" the group was touring a variety of smaller venues such as UMASS Dartmouth, where I had a chance to attend the show with my friend, a certified TMBG fanatic. The album became a major success, a launching pad for a career in music. The band, which had previously found some traction with singles such as "Ana Ng" and "Purple Toupee," would now have a platinum album serving as a showcase for their musical talents.
When I saw them that day, they stood out for both their musical talents and their commitment to keeping their performance fun. This wasn't to be a simple presentation of their songs. I remember the band had brought along a radio, and committed to randomly turning the dial and covering whatever song they came across. The crowd couldn't help but laugh as Madonna's voice came out of the radio, and the band was stuck playing "Lucky Star" or "Like a Virgin," I forget which. What was most memorable is the fact that they gave the song an honest and capable effort for about a minute, but as the novelty wore off they decided to give things another try. And this time, The Guess Who's "American Woman" was the chosen song. They could have had a radio hit with their spontaneous cover version of this classic, as John Flansburgh's guitar growled and the audience joined in the singing. Leaving that day, my friend and I found ourselves wanting more, because what we had experienced had made such an amazing impression. This was a band meant to be experienced live.
So now, twenty years later, I found myself in the audience at Stern Grove, a bigger and much different venue in the heart of San Francisco. The band has released numerous albums since 1990, some for families and others serving as more traditional indie rock compilations. Their music has been used on television, in movies, in advertising, and has won multiple Grammy awards. I've been to additional concerts, and have had the pleasure of seeing TMBG twice with my oldest son and once with my wife. And my friend that I saw that first concert with, the certified TMBG fanatic………of course I've seen another show with him too.
If you haven't been to Stern Grove, it should be said that the venue is an actor in whatever show is performed there. A unique and beautiful outdoor performance space, this public park has hosted the Stern Grove Festival for 73 years. A long and diverse list of performances has been presented under the mature eucalyptus trees that once belonged to the Levi Strauss family. The sloping hills serve as a natural amphitheater, and crowds of up 20,000 will endure the nearly ubiquitous summer fog and even an obstructed view to hear one of these free public concerts. Today turned out to be a rare August day in San Francisco, as it was sunny and warm. It was an absolutely perfect day to be outside enjoying live music.

There was an opening act, although opening act is a label that can sometimes be deceiving. Local band Rogue Wave, a group based across the bay in Oakland, opened with a 45 minute set of songs. The set leaned heavily on the band's two most recent albums, and included the tracks "I'll Never Leave You" and "Good Morning," both from the recent album Permalight. Playing to a very receptive audience which included many friends and family, the band closed strong by playing a percussion segment involving all band members, which lead into the widely known and appreciated "Lake Michigan." They finished with the energetic anthem" Harmonium," and the crowd was properly primed.
TMBG strode onto stage and quickly answered the question "Will they be performing material from their albums for children?" choosing to lead into the day with "Alphabet of Nations." The song is a perfect example of their children's songs, as it is both musically and lyrically interesting, and engages all of the audience. But while they create a fun and compelling product for families, and steer clear of the vapid music most musicians produce for children, they played more of their Indie Rock songs in this set. TMBG quickly covered so many of the familiar bases, playing "New York City" and "Doctor Worm" in succession. Later, they played a selection from their most recent album Here Comes the Science, but quickly returned to more familiar songs like "Your Racist Friend" and "Upside Down Frown."


As usual, Flansburgh engaged the audience with wit and subversive humor, leaving room for the occasional dry insight from Linnell. Flansburgh playfully referred to the audience perched on the hill amongst the trees as Ewoks, commented on the seemingly unanticipated impact hundred year old conifers could have on sightlines, and shared a range of stories explaining the absence of confetti cannons and how the positive vibes of California served as Kryptonite to an "edgy" Brooklyn band such as TMBG. At one point Flansburgh noted….."People in Napa were so nice to us……..we almost ceased to exist……as a band." The band was introduced with the trademark energy and whimsy, and closed the first part of their set with "Damn Good Times." The audience eagerly shouted for more.
Here Comes the Science is the 14th album for They Might Be Giants, which makes crafting a set difficult. Invariably, some people will leave wishing that one or two more songs had made the list. This challenge is heightened in choosing an appropriate encore, and I was curious to see how the band would close out the show. As it turns out, the band played four more songs in two encores, and the songs resonated with the enthused audience. "She's an Angel," "The Guitar," and "Particle Man" all were played before the band left the stage a second time. And finally, after a dramatic pause and much cheering, the day ended with "The Mesopotamians."
For a full set list…. Stern Grove Set List
Twenty years ago I saw a compelling, talented, and vibrant band take the stage and play songs with such alacrity that I became a lifelong fan. Since that time I have consumed their newest material, dwelled on familiar favorites, and shared my passion for this band with my friends and family. Yesterday, on a rare sunny August Day in Stern Grove, I experienced the joy of TMBG live once again, this time with my sister, cousin, thousands of thrilled fans…….and a few Ewoks. What an awesome journey.