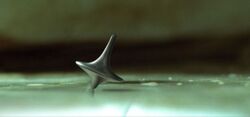 Here is Jeff and his buddy figuring out Inception. It's a great read but there are spoilers so please see the movie first. OK maybe see it twice then join the conversation.
Inception
I don't get it. I've seen it one million times. There are six different things that it means. It's too complicated. It's awesome.
Directed by: Christopher Nolan
Cast: Leonardo DiCaprio, Joseph Gordon-Levitt, Ellen Page, Ken Watanabe, Marion Cotillard
Running Time: 2 hr 28 mins
Rating: PG-13
Release Date: July 16, 2010
PLOT: Cobb (DiCaprio) is a man who infiltrates dreams to steal people's secrets. Now he and his team must attempt to pull off their toughest mission ever; trying to convince a man that an idea he dreams is his own.
Welcome to the latest installment of He Said – He Said. This time Jeff Bayer and Nick Allen aren't the stars. It's the movie. Inception feels like the only movie that anyone is talking about.
Between the two of us, we've seen this movie six times. Nick is the real winner here. He's seen in four times and I'm fairly convinced I can make him believe this entire conversation is a dream. There are some crazy theories floating around with Inception. The most comical is that this entire movie is Christopher Nolan's dream. We'll have to see if Nick has read that one yet.
As always with this He Said – He Said, all topics about the movie are fair game. Plot spoilers will be discussed. In this case, they'll be discussed a great deal. There won't be a set order to this discussion, except for one thing … we aren't going to talk about whether or not the top (totem) falls at the end of the movie, until the end of this article.
The most important thing to learn about Inception is this … it's worth the price of a movie ticket.